Tire Service
TIRE SERVICE
Check out our service specials to see how you can save on new tires today!
Benefits of a Tire Service

Do tires make a difference in your daily life? Today, most drivers in the Greater Princeton, New Jersey Area would probably answer this question with a resounding "Yes!". Anyone who has ever had to spend precious time changing a flat unexpectedly along the road certainly appreciates the paramount importance of maintaining automotive tires in the best possible condition. Vehicles simply cannot function dependably without these important components. Tire problems often prove expensive, too. Yet simply by obtaining essential maintenance services for their automotive tires at regular intervals, many Princeton drivers help keep their vehicles running more reliably throughout the year. An experienced auto technician knows how to evaluate the condition of tire treads accurately. These individuals frequently help drivers prevent delays (or costly towing bills). They perform tire inspections, supply tire rotation services, and aid customers in selecting suitable replacement tires.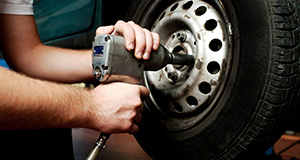 Holman GO
3466 US Highway 1, Princeton, NJ 08540
Serving Princeton, NJ

In the Greater Princeton Area, Holman GO offers a well-equipped automotive service center staffed by Certified Automotive Technicians. We take great pride in assisting customers with a variety of vehicle maintenance issues (including tire-related concerns). Our team works on all makes and models of vehicles. Ask us to inspect your car's tire treads at regular intervals. If we notice heavy wear and tear, or other problems, we'll let you know immediately. We offer a complete tire service. We also furnish a variety of additional tire-related skills. Do you need assistance with installing new tires? Or would you like to explore various options for changing the size or style of your vehicle's current tires? Perhaps you need help selecting and installing tire chains in anticipation of winter driving on steep gradients? If you let us know about the tire-related topics of most interest to you, we'll try and offer experienced, well-qualified assistance.

Tire Service

Our customers appreciate our policy of installing exclusively original equipment manufacturer parts. When you bring a vehicle to our service department for maintenance or mechanical repairs, you'll gain peace of mind knowing we utilize quality components designed for your make and model. Our efforts help our customers realize solid automotive values! Maintaining your vehicle's tires in a roadworthy condition really matters. We'd like to invite you to visit our Service Center whenever your vehicles require any tire-related services. We offer a full range of assistance. Ask us to inspect tires, check air pressures, rotate tires, repair minor leaks, or install new tires. Customers in Princeton, New Jersey obtain valuable services for their vehicles through Holman GO. We'd like to become your preferred automotive maintenance service center in this part of New Jersey!